Caribbean Net News, 1 October 2008
Corporal punishment to be reintroduced in Guyana's schools
By Oscar Ramjeet
Caribbean Net News Special Correspondent
Click to enlarge
GEORGETOWN, Guyana: Guyana's Education Minister Shaik Baksh has announced that draft legislation is currently in place to reintroduce corporal punishment in schools.

He made the announcement in response to concerns of parents in Georgetown about the rising violence in South Georgetown schools.

Several reports have been made of instances where students physically abused their teachers and even their parents.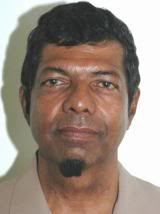 Guyana's Education Minister Shaik Baksh. GINA Photo
The Guyana Chronicle reported that a few parents who were in support of flogging, spoke of their school days when they described that "wild cane was used to whip children who misbehaved". The parents explained that they were not calling for irresponsible flogging, but for the administering of what they called the "medicine" to get students, irrespective of their social background, to understand that school was a place to learn and cultivate learned behaviour.

In response to the concerned parents, the Minister said that flogging was the source of much debate and was addressed in the draft education legislation currently before the Attorney General.

Baksh also stressed that his Ministry recognized the value of religious education in schools and that plans were already in place to make the subject compulsory in the curriculum.

The Chronicle report also stated that the Minister disclosed that a national consultation would be held to garner opinion on this issue.
Copyright© 2007-2008 Caribbean Net News at www.caribbeannetnews.com All Rights Reserved
Other months for school CP in Guyana:
April 2004
June 2004
Dec 2006
Jan 2007