[English translation below]
Prensa Libre, Guatemala City, 12 May 2006
Aplican 75 latigazos a delincuente
Comunitarios de Sololá ponen en práctica el Derecho consuetudinario
Edgar René Sáenz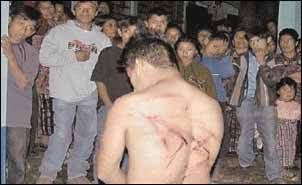 Santiago Cuc Samines fue azotado 75 veces como castigo por su conducta delictiva en el caserío Xibalbay. (Foto PL: Edgar René Sáenz).
Después de un debate público comunitario, líderes, alcaldes auxiliares y habitantes del caserío Xibalbay, aldea Chaquijya, Sololá, decidieron aplicar 75 latigazos a Santiago Cuc Samines, de 25 años de edad, acusado de haber cometido varios delitos en esa localidad.
Melesio Saloj, coordinador general de los Comités Comunitarios de Desarrollo (Cocodes), informó que el proceso y sentencia contra Cuc fue apegado al Derecho consuetudinario y a las costumbres del pueblo kaqchikel. Fue azotado en la escuela local ante unos dos mil vecinos.
Agregó que fue acusado por los delitos de portación ilegal de arma de fuego, amenazas e intento de secuestro, que supuestamente perpetró en marzo pasado.
Saloj refirió que durante dos meses llevaron a cabo una investigación de los hechos, la cual incluyó la declaración de varios testigos y testimonios de habitantes sobre el comportamiento del sindicado.
Sentencia
Después de tres horas de debate, los líderes comunitarios decidieron castigar al delincuente con 100 azotes, pero éste pidió perdón por sus actos, por lo que el castigo se redujo a 75, expuso el líder Tomás Saloj.
Expuso que Cuc fue castigado con ramas de durazno, fue obligado a recorrer las calles para pedir perdón, y finalmente fue entregado a uno de sus familiares presente en la audiencia.
Juan Victoriano Guarcax, de los Cocodes, dijo que acordaron que si Cuc no cambiaba su actitud delictiva sería expulsado de la comunidad, por lo que le fue asignada vigilancia durante las 24 horas.
Expresó que el azotado estuvo de acuerdo con la medida y firmó el libro de actas de la comunidad como muestra de buena voluntad. También aceptó unirse a una de las iglesias que funcionan en el caserío Xibalbay.
Declaran
•"Fue un proceso justo, que evitará que la población tome justicia por su propia mano, como linchamientos", declaró Melesio Saloj, líder comunal.
•"Fue un ejemplo para todos los vecinos, especialmente para que niños y jóvenes no tomen malos caminos", dijo Mariano Roquel, alcalde auxiliar.
Copyright © 2000 - 2007 Prensa Libre, S.A.. Derechos Reservados.
Rough translation:

Delinquent is given 75 strokes

Sololá community puts the common law into practice

[caption] Santiago Cuc Samines was whipped 75 times as punishment for his criminal conduct in Xibalbay village. (Photo PL: Edgar René Sáenz).

After a communal public debate, leaders, aldermen and inhabitants of the hamlet of Xibalbay, Chaquijya village, Sololá, decided to apply 75 lashes to Santiago Cuc Samines, 25, accused of committing several crimes in the area.

Melesio Saloj, general coordinator of the Community Development Committees (Cocodes), said that the prosecution and sentencing of Cuc were undertaken under the common law and in accordance with the customs of the Kaqchikel people. The culprit was whipped at the local school in front of about two thousand local people.

He was accused of illegally carrying firearms, uttering threats and attempted kidnapping, crimes allegedly committed in March.

Saloj added that a two-month-long investigation had been carried out, including statements by several witnesses and evidence from inhabitants as to the behaviour of the gang.

Sentence

After three hours of debate, the community leaders decided to punish the delinquent with 100 strokes of the whip, but this was reduced to 75 after he begged pardon for his offences, said community leader Tomás Saloj.

Cuc was punished with peach tree branches, was made to walk the streets to ask for forgiveness, and finally was handed over to one of his relatives who was present.

Juan Victoriano Guarcax, of the committee, said they decided that if Cuc did not change his criminal attitude he would be expelled from the community, and for this reason he would be under surveillance 24 hours a day.

The offender accepted these rulings and signed the community book to show his good will. He also agreed to join one of the churches working in Xibalbay.

Quotes

•"These proceedings were just, and will avoid local people taking the law into their own hands, for example by lynching", said Melesio Saloj, the local leader.

•"It was an example to everyone in the area, especially so that youngsters do not get into bad habits", said Mariano Roquel, an alderman.