The Australian, Sydney, 25 June 2012
States refuse to buckle amid calls to ban cane
By Rosanne Barrett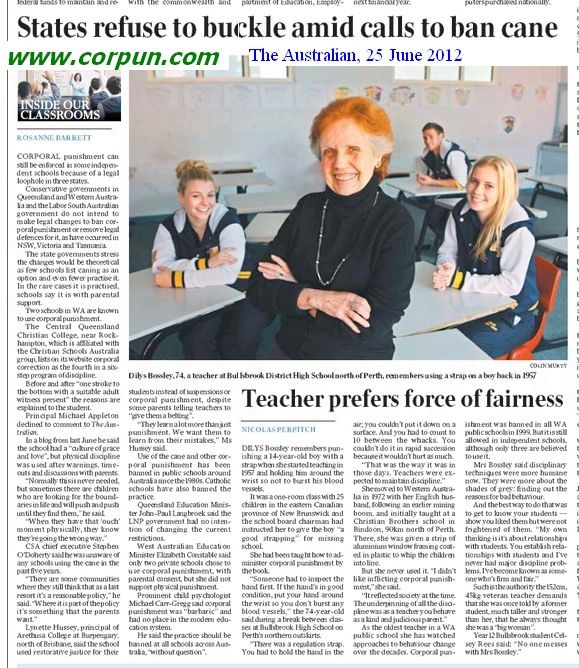 Click to enlarge
CORPORAL punishment can still be enforced in some independent schools because of a legal loophole in three states.
Conservative governments in Queensland and Western Australia and the Labor South Australian government do not intend to make legal changes to ban corporal punishment or remove legal defences for it, as have occurred in NSW, Victoria and Tasmania.
The state governments stress the changes would be theoretical as few schools list caning as an option and even fewer practise it. In the rare cases it is practised, schools say it is with parental support.
Two schools in WA are known to use corporal punishment.
The Central Queensland Christian College, near Rockhampton, which is affiliated with the Christian Schools Australia group, lists on its website corporal correction as the fourth in a six-step program of discipline.
Before and after "one stroke to the bottom with a suitable adult witness present" the reasons are explained to the student.
Principal Michael Appleton declined to comment to The Australian.
In a blog from last June he said the school had a "culture of grace and love", but physical discipline was used after warnings, time-outs and discussions with parents.
"Normally this is never needed, but sometimes there are children who are looking for the boundaries in life and will push and push until they find them," he said.
"When they have that 'ouch' moment physically, they know they're going the wrong way."
CSA chief executive Stephen O'Doherty said he was unaware of any schools using the cane in the past five years.
"There are some communities where they still think that as a last resort it's a reasonable policy," he said. "Where it is part of the policy it's something that the parents want."
Lynette Hussey, principal of Arethusa College at Burpengary, north of Brisbane, said the school used restorative justice for their students instead of suspensions or corporal punishment, despite some parents telling teachers to "give them a belting".
"They learn a lot more than just punishment. We want them to learn from their mistakes," Ms Hussey said.
Use of the cane and other corporal punishment has been banned in public schools around Australia since the 1980s. Catholic schools have also banned the practice.
Queensland Education Minister John-Paul Langbroek said the LNP government had no intention of changing the current restrictions.
West Australian Education Minister Elizabeth Constable said only two private schools chose to use corporal punishment, with parental consent, but she did not support physical punishment.
Prominent child psychologist Michael Carr-Gregg said corporal punishment was "barbaric" and had no place in the modern education system.
He said the practice should be banned at all schools across Australia, "without question".
---
The Australian, Sydney, 25 June 2012
Teacher prefers force of fairness
By Nicolas Perpitch
DILYS Bossley remembers punishing a 14-year-old boy with a strap when she started teaching in 1957 and holding him around the wrist so not to burst his blood vessels.
It was a one-room class with 25 children in the eastern Canadian province of New Brunswick and the school board chairman had instructed her to give the boy "a good strapping" for missing school.
She had been taught how to administer corporal punishment by the book.
"Someone had to inspect the hand first. If the hand's in good condition, put your hand around the wrist so you don't burst any blood vessels," the 74-year-old said during a break between classes at Bullsbrook High School on Perth's northern outskirts.
"There was a regulation strap. You had to hold the hand in the air; you couldn't put it down on a surface. And you had to count to 10 between the whacks. You couldn't do it in rapid succession because it wouldn't hurt as much.
"That was the way it was in those days. Teachers were expected to maintain discipline."
She moved to Western Australia in 1972 with her English husband, following an earlier mining boom, and initially taught at a Christian Brothers school in Bindoon, 90km north of Perth. There, she was given a strip of aluminium window framing coated in plastic to whip the children into line.
But she never used it. "I didn't like inflicting corporal punishment," she said.
"It reflected society at the time. The underpinning of all the discipline was as a teacher you behave as a kind and judicious parent."
As the oldest teacher in a WA public school she has watched approaches to behaviour change over the decades. Corporal punishment was banned in all WA public schools in 1999. But it is still allowed in independent schools, although only three are believed to use it.
Mrs Bossley said disciplinary techniques were more humane now. They were more about the shades of grey: finding out the reasons for bad behaviour.
And the best way to do that was to get to know your students - show you liked them but were not frightened of them. "My own thinking is it's about relationships with students. You establish relationships with students and I've never had major discipline problems. I've become known as someone who's firm and fair."
Such is the authority the 152cm, 45kg veteran teacher demands that she was once told by a former student, much taller and stronger than her, that he always thought she was a "big woman".
Year 12 Bullsbrook student Celsey Rees said: "No one messes with Mrs Bossley."