Sunday Herald Sun, Melbourne, 15 April 2012, p.26
Bring back the cane
Call for schools to restore discipline
By Robyn Riley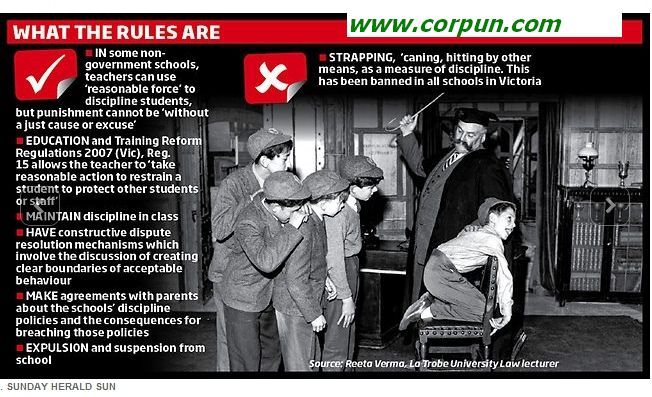 AN increase in teen violence and crime has led to a call for a return of the cane to help discipline unruly children in the classroom.
Victorian figures revealed by a Sentencing Advisory Council report last week show an increase in violent crime by children.
"We need to bring back discipline in the classroom," Pastor Daniel Nalliah said. "Parents tell me they feel restricted and helpless."
Corporal punishment was banned in Victorian government and Catholic schools in 1985, but it was only seven years ago that it was outlawed in all Victorian schools under the first rewrite of education laws in more than 130 years.
Pastor Nalliah, an evangelist and also the Melbourne leader of a new political party called Rise Up Australia, said he would push for parents and schools to have the right to discipline children "within sensible, historical guidelines".
His suggestion is to use a demerit point system -- 10 strikes and a child will be paddled by the school principal with parents' permission.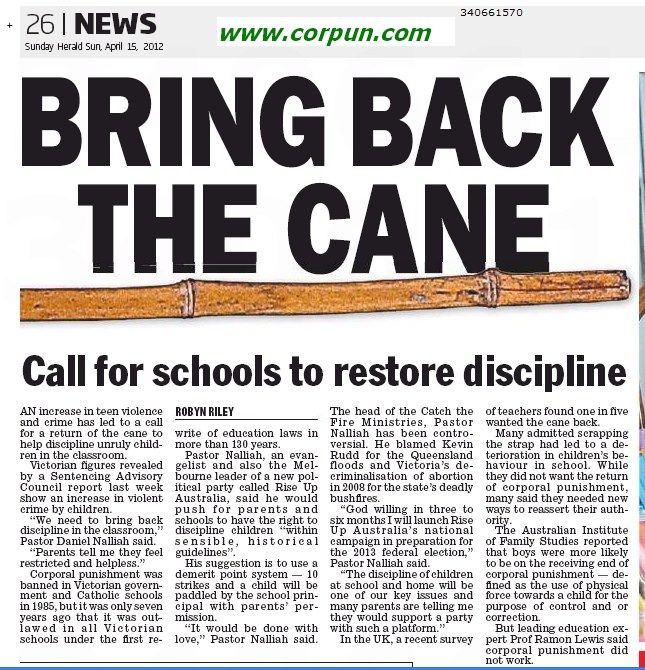 Click to enlarge
"It would be done with love," Pastor Nalliah said. The head of the Catch the Fire Ministries, Pastor Nalliah has been controversial. He blamed Kevin Rudd for the Queensland floods and Victoria's decriminalisation of abortion in 2008 for the state's deadly bushfires.
"God willing in three to six months I will launch Rise Up Australia's national campaign in preparation for the 2013 federal election," Pastor Nalliah said.
"The discipline of children at school and home will be one of our key issues and many parents are telling me they would support a party with such a platform."
In the UK, a recent survey of teachers found one in five wanted the cane back.
Many admitted scrapping the strap had led to a deterioration in children's behaviour in school. While they did not want the return of corporal punishment, many said they needed new ways to reassert their authority.
The Australian Institute of Family Studies reported that boys were more likely to be on the receiving end of corporal punishment -- defined as the use of physical force towards a child for the purpose of control and or correction.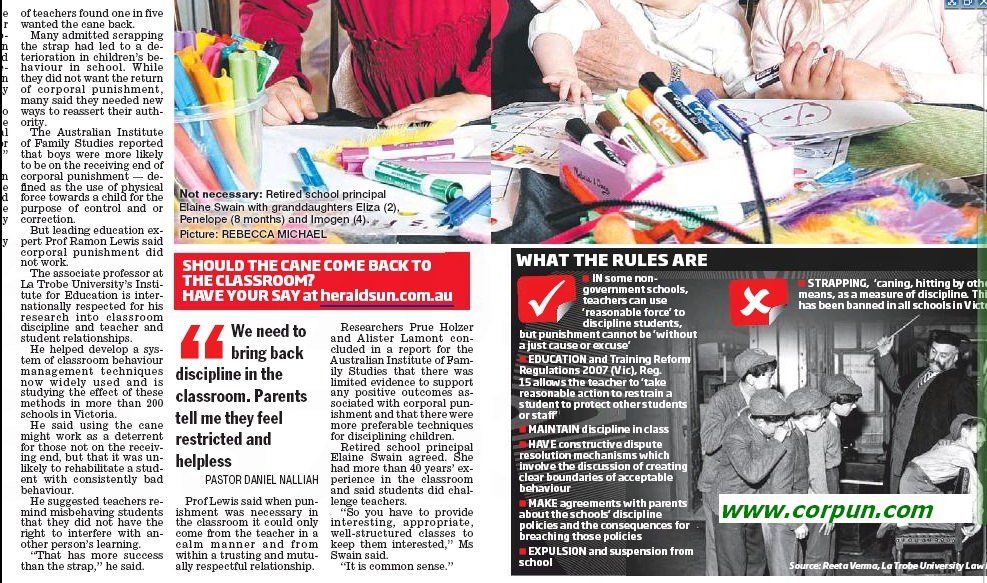 Click to enlarge
But leading education expert Prof Ramon Lewis said corporal punishment did not work.
The associate professor at La Trobe University's Institute for Education is internationally respected for his research into classroom discipline and teacher and student relationships.
He helped develop a system of classroom behaviour management techniques now widely used and is studying the effect of these methods in more than 200 schools in Victoria.
He said using the cane might work as a deterrent for those not on the receiving end, but that it was unlikely to rehabilitate a student with consistently bad behaviour.
He suggested teachers remind misbehaving students that they did not have the right to interfere with another person's learning.
"That has more success than the strap," he said.
Prof Lewis said when punishment was necessary in the classroom it could only come from the teacher in a calm manner and from within a trusting and mutually respectful relationship.
Researchers Prue Holzer and Alister Lamont concluded in a report for the Australian Institute of Family Studies that there was limited evidence to support any positive outcomes associated with corporal punishment and that there were more preferable techniques for disciplining children.
Retired school principal Elaine Swain agreed. She had more than 40 years' experience in the classroom and said students did challenge teachers.
"So you have to provide interesting, appropriate, well-structured classes to keep them interested," Ms Swain said.
"It is common sense."