The Sowetan, Johannesburg, 21 December 2011
Teachers quit over lack of discipline
By Alex Matlala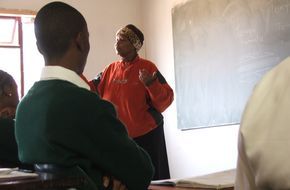 THE South African Democratic Teachers Union says the teaching profession is losing many teachers because corporal punishment has been banned in schools.
Sadtu national secretary John Maluleke said yesterday an estimated 67,000 teachers resigned this year because of a lack of discipline in schools and lack of support from the department of education.
Maluleke said corporal punishment was used as a strategy to instil discipline in schools.
He said since corporal punishment was outlawed, violence was escalating in schools.
"Teachers are afraid to discipline pupils because they carry pangas while others bring drugs on school premises and rape female pupils in the toilets," he said.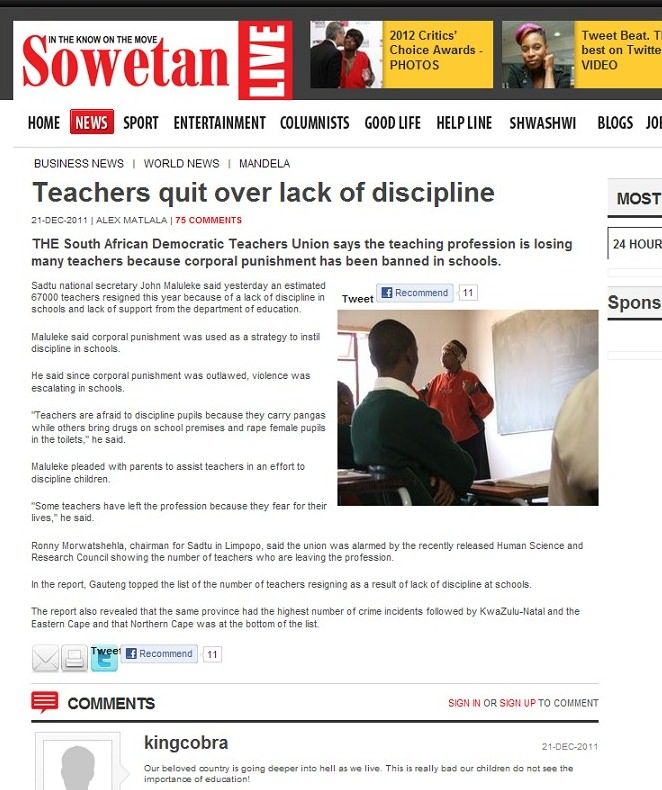 Click to enlarge
Maluleke pleaded with parents to assist teachers in an effort to discipline children.
"Some teachers have left the profession because they fear for their lives," he said.
Ronny Morwatshehla, chairman for Sadtu in Limpopo, said the union was alarmed by the recently released Human Science and Research Council showing the number of teachers who are leaving the profession.
In the report, Gauteng topped the list of the number of teachers resigning as a result of lack of discipline at schools.
The report also revealed that the same province had the highest number of crime incidents followed by KwaZulu-Natal and the Eastern Cape and that Northern Cape was at the bottom of the list.