New Kerala, 26 November 2010
Govt plans to enact law to stop corporal punishment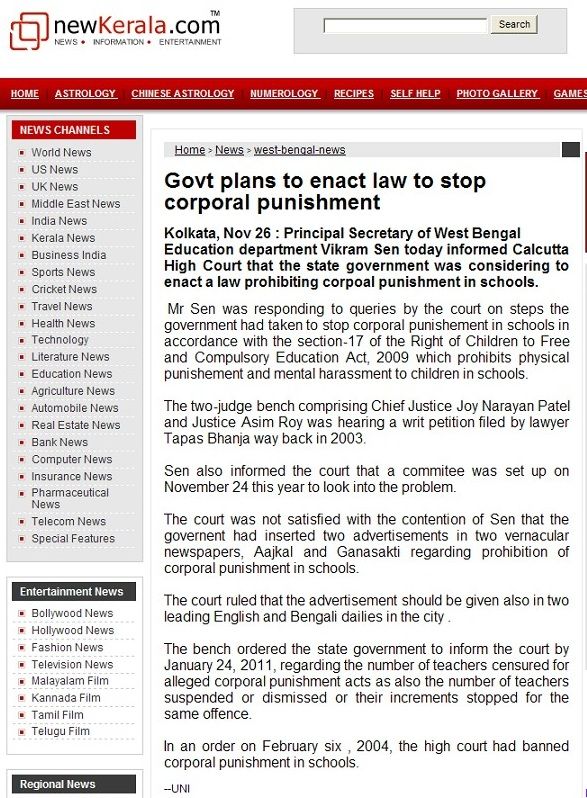 Click to enlarge
Kolkata, Nov 26: Principal Secretary of West Bengal Education department Vikram Sen today informed Calcutta High Court that the state government was considering to enact a law prohibiting corporal punishment in schools.
Mr Sen was responding to queries by the court on steps the government had taken to stop corporal punishment in schools in accordance with the section-17 of the Right of Children to Free and Compulsory Education Act, 2009 which prohibits physical punishment and mental harassment to children in schools.

The two-judge bench comprising Chief Justice Joy Narayan Patel and Justice Asim Roy was hearing a writ petition filed by lawyer Tapas Bhanja way back in 2003.

Sen also informed the court that a committee was set up on November 24 this year to look into the problem.

The court was not satisfied with the contention of Sen that the government had inserted two advertisements in two vernacular newspapers, Aajkal and Ganasakti regarding prohibition of corporal punishment in schools.

The court ruled that the advertisement should be given also in two leading English and Bengali dailies in the city.

The bench ordered the state government to inform the court by January 24, 2011, regarding the number of teachers censured for alleged corporal punishment acts as also the number of teachers suspended or dismissed or their increments stopped for the same offence.

In an order on February six, 2004, the high court had banned corporal punishment in schools. -- UNI
(c) 2001-2010 NEWKERALA.COM. All Rights Reserved.
Country files: School CP in India
Other months for school CP in India:
September 2003
January 2004
February 2004
September 2004
February 2007