The Fiji Times, Suva, 2 December 2010
Bua chief enforces spanking
By Serafina Silaitoga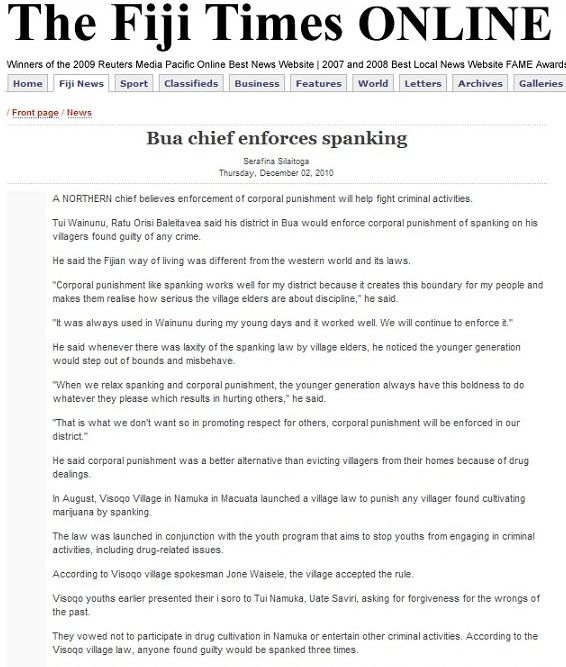 Click to enlarge
A NORTHERN chief believes enforcement of corporal punishment will help fight criminal activities.
Tui Wainunu, Ratu Orisi Baleitavea said his district in Bua would enforce corporal punishment of spanking on his villagers found guilty of any crime.
He said the Fijian way of living was different from the western world and its laws.
"Corporal punishment like spanking works well for my district because it creates this boundary for my people and makes them realise how serious the village elders are about discipline," he said.
"It was always used in Wainunu during my young days and it worked well. We will continue to enforce it."
He said whenever there was laxity of the spanking law by village elders, he noticed the younger generation would step out of bounds and misbehave.
"When we relax spanking and corporal punishment, the younger generation always have this boldness to do whatever they please which results in hurting others," he said.
"That is what we don't want so in promoting respect for others, corporal punishment will be enforced in our district."
He said corporal punishment was a better alternative than evicting villagers from their homes because of drug dealings.
In August, Visoqo Village in Namuka in Macuata launched a village law to punish any villager found cultivating marijuana by spanking.
The law was launched in conjunction with the youth program that aims to stop youths from engaging in criminal activities, including drug-related issues.
According to Visoqo village spokesman Jone Waisele, the village accepted the rule.
Visoqo youths earlier presented their i soro to Tui Namuka, Uate Saviri, asking for forgiveness for the wrongs of the past.
They vowed not to participate in drug cultivation in Namuka or entertain other criminal activities. According to the Visoqo village law, anyone found guilty would be spanked three times.
Copyright © 2010, Fiji Times Limited. All Rights Reserved.