Northern Territory News, Darwin, 14 April 2010

Click to enlarge
Give 'em a smack
NT loophole allows teachers to spank your kids
By Nick Calacouras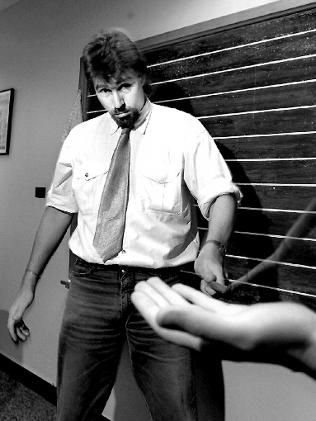 THE Territory Government is refusing to close a loophole that allows teachers to smack their students.
A report by the Australian Institute of Family Studies has revealed that the Territory is the last jurisdiction to allow corporal punishment in the classroom.
The Education Act does not specifically ban the use of corporal punishment.
And the Criminal Code gives the teachers the power to "apply force to a child for the purposes of discipline, management or control" -- unless a parent specifically withholds consent.
"The research is clear that there is limited evidence to support any positive outcomes associated with corporal punishment and that there are other more preferable techniques for disciplining children," the report said.
Education Minister Chris Burns yesterday dismissed any concerns as "hypothetical". Dr Burns said the Education Department's policy did not allow for corporal punishment. "So the proposition has been put forward is completely academic and hypothetical," he said.
"It is policy that students do not undergo corporal punishment. That is the policy, it is adhered to in our schools.
"I haven't heard of any instances where it hasn't been adhered to and so that is the situation. It is a totally hypothetical question".
But even though schools do not allow corporal punishment, the archaic law could prevent a teacher from being prosecuted for hitting a student.
Australian Childhood Foundation chief executive Dr Joe Tucci said the Territory was an "anomaly" for keeping this provision on the books.
"I think kids don't learn when teachers are using physical force or threatening physical violence," he said.
"We've come a long way from spare the rod, spoil the child."
But Dr Burns said there was "no hurry" to remove this law.
"From time to time, we do review the Northern Territory Education Act, but I don't think there's any need to hurry here because there is no policy in place that allows corporal punishment in our schools."
Opposition Leader Terry Mills -- a former high school principal -- was also hesitant to call for the loophole to be closed.
"That's a matter for the parents and the school and ultimately for the Minister to consider," he said.
"In my view, corporal punishment is not an acceptable response to student behaviour in schools today."
Chief Minister Paul Henderson last year announced a review of the Summary Offences Act after it was revealed to have offences such as fortune telling, extinguishing a street lamp, flying a kite and turning loose a swine or goat in a public place.

Click to enlarge
THE SMACKING ARM OF THE LAW: CRIMINAL CODE ACT - SECT 11:
A PERSON who may justifiably apply force to a child for the purposes of discipline, management or control may delegate that power either expressly or by implication to another person who has the custody or control of the child either temporarily or permanently and, where that other person is a school teacher of the child, it shall be presumed that the power has been delegated unless it is expressly withheld.