Cape Times, Cape Town, 1 September 1955
Nine-year-old Housebreaker To Be Caned
Click to enlarge
JOHANNESBURG. -- A nine-year-old European boy, in standard II at school, was sentenced in the Juvenile Court here yesterday to two cuts with a cane after he had been convicted with another youth on a charge of housebreaking.
The other youth, a 12-year-old scholar in Standard IV at school, was sentenced to receive three cuts.
Both had pleaded guilty to breaking into the Jan Hofmeyr Children's Creche "with intent to commit a crime to the public prosecutor unknown."
Mrs. Maria Suzanna Grobler, employed at the creche, said when she left work about 5.30 p.m. on August 12 the place was properly locked.
Window Opened
On August 15, when she arrived at the creche about 8.30 a.m. she noticed that a window had been opened.
Inside she saw that a locker had been damaged and opened. The damage was estimated at between £5 and £6.
Preliminary reports by a probationary officer said that both children apparently did not realize the seriousness of the offence.
The reports recommended corporal punishment to bring this home to them.
The mothers of both children, who were present in court, asked that their children should be given corporal punishment. -- (Sapa.)
---
---
Cape Argus, Cape Town, 2 September 1955
Cuts for boy hunter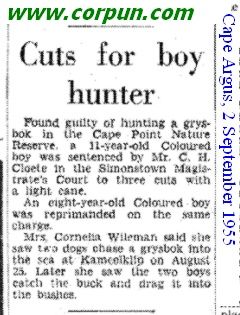 Click to enlarge
Found guilty of hunting a grysbok in the Cape Point Nature Reserve, an 11-year-old Coloured boy was sentenced by Mr. C.H. Cloete in the Simonstown Magistrate's Court to three cuts with a light cane.
An eight-year-old Coloured boy was reprimanded on the same charge.
Mrs. Cornelia Wileman said she saw two dogs chase a grysbok into the sea at Kameelklip on August 25. Later she saw the two boys catch the buck and drag it into the bushes.
---
---
Cape Times, Cape Town, 3 September 1955
Guilty of Car Theft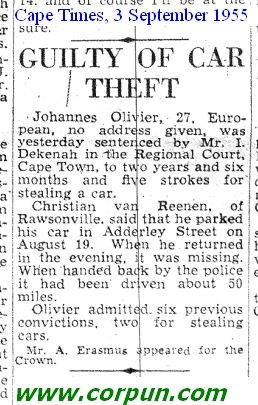 Click to enlarge
Johannes Olivier, 27, European, no address given, was yesterday sentenced by Mr. I. Dekenah in the Regional Court, Cape Town, to two years and six months and five strokes for stealing a car.
Christian van Reenen, of Rawsonville, said that he parked his car in Adderley Street on August 19. When he returned in the evening, it was missing. When handed back by the police it had been driven about 30 miles.
Olivier admitted six previous convictions, two for stealing cars.
Mr. A. Erasmus appeared for the Crown.
---
---
Cape Times, Cape Town, 9 September 1955
Gaol and Cuts for Theft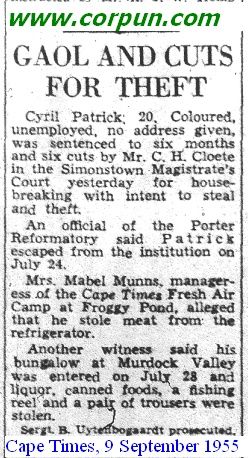 Click to enlarge
Cyril Patrick, 20, Coloured, unemployed, no address given, was sentenced to six months and six cuts by Mr. C.H. Cloete in the Simonstown Magistrate's Court yesterday for housebreaking with intent to steal and theft.
An official of the Porter Reformatory said Patrick escaped from the institution on July 24.
Mrs. Mabel Munns, manageress of the Cape Times Fresh Air Camp at Froggy Pond, alleged that he stole meat from the refrigerator.
Another witness said his bungalow at Murdock Valley was entered on July 28 and liquor, canned foods, a fishing reel and a pair of trousers were stolen.
Sergt. B. Uytenbogaardt prosecuted.
---
---
Cape Times, Cape Town, 10 September 1955
Alcohol Not Mitigation, Says Judge

Click to enlarge
DURBAN. -- William Norman Wheeler, 23, a welder, of Ridge Road, Durban, was sentenced in the Supreme Court here yesterday to seven years and six strokes for rape.
Mr. Justice Kennedy and two assessors found Wheeler guilty of raping a Native woman at Mitchell Park, Morningside, on the night of March 12 and raping her again at Ridge Road the same night.
"The Judge said: "I cannot under the circumstances of this case, take the question of Wheeler's alcoholic state into consideration for the purpose of sentence.
"Sorry State"
"If in sexual cases alcohol were held to be a mitigating circumstance, it would lead to a sorry and, perhaps, impossible state of affairs.
"The rape by a man of the White race on [sic] a woman of another race in our multiracial population must be treated as an aggravation of the offence."
He had considered Wheeler's youth and the fact that, except for the minor injury, the woman had suffered little physical violence, but he was compelled to send Wheeler to gaol for a long period. -- (Sapa.)
---
---
The Cape Argus, Cape Town, 13 September 1955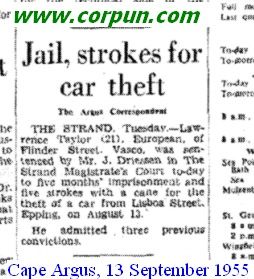 Click to enlarge
Jail, strokes for car theft
The Argus Correspondent
THE STRAND, Tuesday. -- Lawrence Taylor (21), European, of Flinder Street, Vasco, was sentenced by Mr. J. Driessen in The Strand Magistrate's Court yesterday to five months' imprisonment and five strokes with a cane for the theft of a car from Lisboa Street, Epping, on August 13.
He admitted three previous convictions.
---
---
Cape Times, Cape Town, 15 September 1955
Burglar gets cuts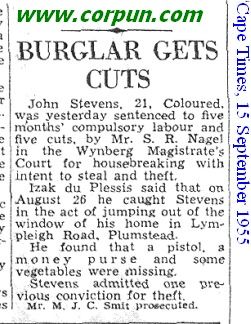 Click to enlarge
John Stevens, 21, Coloured, was yesterday sentenced to five months' compulsory labour and five cuts, by Mr. S.R. Nagel in the Wynberg Magistrate's Court for housebreaking with intent to steal and theft.
Izak du Plessis said that on August 26 he caught Stevens in the act of jumping out of the window of his home in Lympleigh Road, Plumstead.
He found that a pistol, a money purse and some vegetables were missing.
Stevens admitted one previous conviction for theft.
Mr. M.J.C. Smit prosecuted.
---
---
Cape Times, Cape Town, 15 September 1955
Gaol And Cuts For Boxer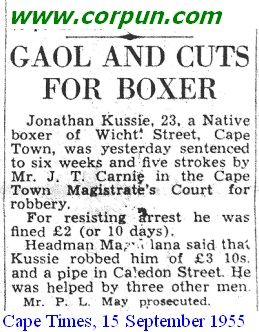 Click to enlarge
Jonathan Kussie, 23, a Native boxer of Wicht Street, Cape Town, was yesterday sentenced to six weeks and five strokes by Mr. J.T. Carnie in the Cape Town Magistrate's Court for robbery.
For resisting arrest he was fined £2 (or 10 days).
Headman Magiclana said that Kussie robbed him of £3.10s and a pipe in Caledon Street. He was helped by three other men.
Mr. P.L. May prosecuted.
---
---
Cape Times, Cape Town, 15 September 1955
Denies That Colour is a Factor in Severity of Canings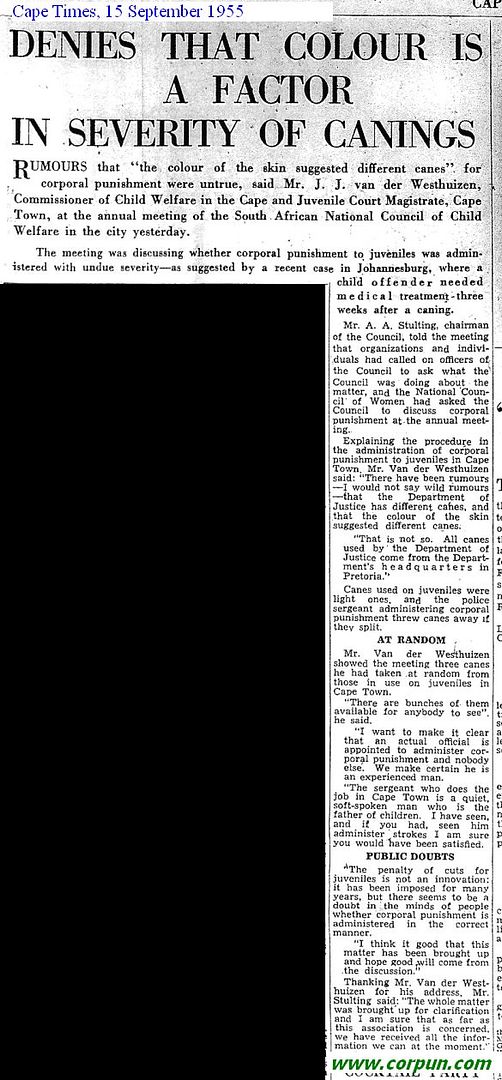 Click to enlarge
RUMOURS that "the colour of the skin suggested different canes" for corporal punishment were untrue, said Mr. J.J. van der Westhuizen, Commissioner of Child 'Welfare in the Cape and Juvenile Court Magistrate, Cape Town, at the annual meeting of the South African National Council of Child Welfare in the city yesterday.
The meeting was discussing whether corporal punishment to juveniles was administered with undue severity -- as suggested by a recent case in Johannesburg, where a child offender needed medical treatment three weeks after a caning.

Mr. A.A. Stulting, chairman of the Council, told the meeting that organizations and individuals had called on officers of the Council to ask what the Council was doing about the matter, and the National Council of Women had asked the Council to discuss corporal punishment at the annual meeting.

Explaining the procedure in the administration of corporal punishment to juveniles in Cape Town, Mr. Van der Westhuizen said: "There have been rumours -- I would not say wild rumours -- that the Department of Justice has different canes, and that the colour of the skin suggested different canes.

"That is not so. All canes used by the Department of Justice come from the Department's headquarters in Pretoria."
Canes used on juveniles were light ones, and the police sergeant administering corporal punishment threw canes away if they split.
At Random
Mr. Van der Westhuizen showed the meeting three canes he had taken at random from those in use on juveniles in Cape Town.

"There are bunches of them available for anybody to see", he said.

"I want to make it clear that an actual official is appointed to administer corporal punishment and nobody else. We make certain he is an experienced man.

"The sergeant who does the job in Cape Town is a quiet, soft-spoken man who is the father of children. I have seen, and if you had, seen him administer strokes I am sure you would have been satisfied.
Public Doubts
"The penalty of cuts for juveniles is not an innovation: it has been imposed for many years, but there seems to be a doubt in the minds of people whether corporal punishment is administered in the correct manner.

"I think it good that this matter has been brought up and hope good will come from the discussion."

Thanking Mr. Van der Westhuizen for his address, Mr. Stulting said: "The whole matter was brought up for clarification and I am sure that as far as this association is concerned, we have received all the information we can at the moment."
---
Cape Times, Cape Town, 15 September 1955
Tales of Screams at Canings Are 'Exaggerated'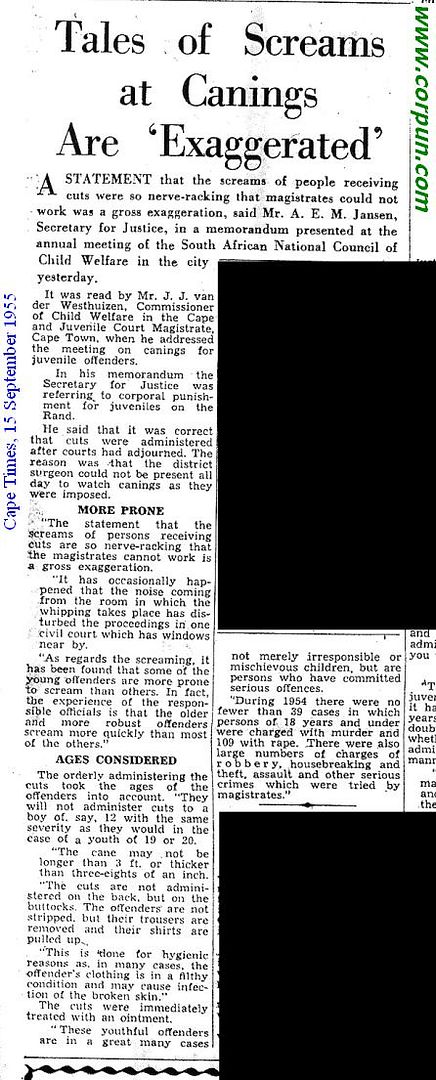 Click to enlarge
A STATEMENT that the screams of people receiving cuts were so nerve-racking that magistrates could not work was a gross exaggeration, said Mr. A.E.M. Jansen, Secretary for Justice, in a memorandum presented at the annual meeting of the South African National Council of Child Welfare in the city yesterday.

It was read by Mr. J.J. van der Westhuizen, Commissioner of Child Welfare in the Cape and Juvenile Court Magistrate, Cape Town, when he addressed the meeting on canings for juvenile offenders.
In his memorandum, the Secretary for Justice was referring to corporal punishment for juveniles on the Rand.

He said that it was correct that cuts were administered after courts had adjourned. The reason was that the district surgeon could not be present all day to watch canings as they were imposed.
More Prone
"The statement that the screams of persons receiving cuts are so nerve-racking that the magistrates cannot work is a gross exaggeration.

"It has occasionally happened that the noise coming from the room in which the whipping takes place has disturbed the proceedings in one civil court which has windows nearby.

"As regards the screaming, it has been found that some of the young offenders are more prone to scream than others. In fact, the experience of the responsible officials is that the older and more robust offenders scream more quickly than most of the others."
Ages Considered
The orderly administering the cuts took the ages of the offenders into account. "They will not administer cuts to a boy of, say, 12 with the same severity as they would in the case of a youth of 19 or 20.
"The cane may not be longer than 3 ft. or thicker than three-eighths of an inch.

"The cuts are not administered on the back, but on the buttocks. The offenders are not stripped, but their trousers are removed and their shirts are pulled up.

"This is done for hygienic reasons as, in many cases, the offender's clothing is in a filthy condition and may cause infection of the broken skin."

The cuts were immediately treated with an ointment.

"These youthful offenders are in a great many cases not merely irresponsible or mischievous children, but are persons who have committed serious offences.

"During 1954 there were no fewer than 39 cases in which persons of 18 years and under were charged with murder and 109 with rape. There were also large numbers of charges of robbery, housebreaking and theft, assault and other serious crimes which were tried by magistrates."
---
---
Corpun file 23768 at www.corpun.com
The Cape Argus, Cape Town, 20 September 1955
City juvenile court impressed her
Click to enlarge
LADY BRAGG, wife of Sir Lawrence Bragg (British physicist), herself a Cambridge magistrate, sat with Mr. J.J. van der Westhuizen on the bench at the Cape Town Juvenile Court to-day.
After watching Mr. van der Westhuizen dispose of several cases, she said: 'I am extremely impressed with the relationship here between magistrate and child -- the child seemed able to speak for himself.
'I was particularly interested in the way the court discriminated between criminal tendency and need of guidance and care, and noticed that in the latter instance the case was struck off the Juvenile Court roll and referred to the Children's Court, which is not a criminal court.
'I would like to see this procedure adopted in England -- it gives the authorities an opportunity to do their best for the child concerned and the magistrate a better chance of discussing the problem intimately with the offender.
'Except for corporal punishment, which has been abolished in England, your system of punishment is much the same as ours.
'I was surprised to hear that one of the boys in court had received cuts -- but then I realize that the Coloured juvenile delinquent of South Africa is physically more mature and hardy than his White counterpart in England.'
---
---
Corpun file 23792 at www.corpun.com
The Cape Argus, Cape Town, 24 September 1955
'Flogging' report started something
The Argus Correspondent
Click to enlarge
JOHANNESBURG, Saturday.
COL. P. GROBLER (Deputy Commissioner of Police for the Witwatersrand) has been receiving letters from American 'pen-pals' -- all because of a report in a U.S. newspaper about caning in the Union.
The report, which he quoted at a parade at Mayfair, Johannesburg, yesterday afternoon, where 60 members of the force were awarded good service medals, was headed 'Police in South Africa Flog Their Prisoners.'
It told of specially selected men who underwent thorough training, even including target practice on sacks, till they could hit a charcoal line three times out of four.
It told of squads of beaters who went to the courts each day to await offenders.
One writer told Colonel Grobler: 'I hope you will soon abolish this inhuman treatment that is famous throughout the world.'
Another asked whether the offenders had to strip naked. 'I suppose they do -- to stop them getting blood on their pants,' he wrote.
'Do you whip n_____s harder than Whites on account of their thicker hides? I sure think I could get on with your cops over there,' he concluded.
Colonel Grobler said that if the police gave the Press something small to write of, it could be distorted.
'Rather give them nothing bad,' he urged.