Russia - 3 clips of army recruits undergoing initiation spankings
Clip 1 of 3 (3 mins 30 secs):
Here three recent recruits have to undergo initiation by their mates, using a doubled-up belt to the bare buttocks as they lie face down on a bench.
The initiates are in pain at the end of their ordeal and look a lot less cocksure than at the beginning.
HERE IS THE CLIP:
NOTE: The videos advertised at the end of this clip have nothing to with corporal punishment, and are put there by the external video hosting company, not by me. I cannot find a way of getting rid of them. They are entirely outside the control of this website. There is no reason why you should find them of the smallest interest, and they may be actually offensive. If you click on them, you will be taken away from www.corpun.com.
Clip 2 of 3 (1 min 32 secs):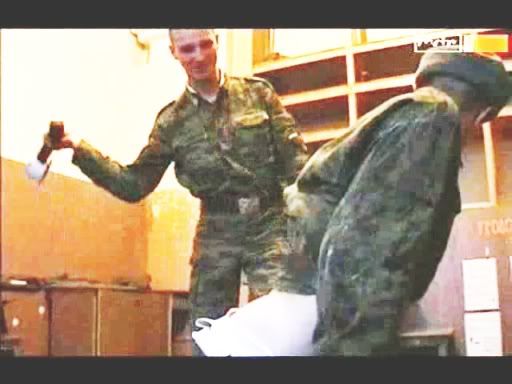 This is an excerpt from a German TV "fly-on-the-wall" documentary about the Russian army.
There are two spankings shown here. The first, coming after six months in the service, consists of eight whacks on the bare bottom as the recipient leans over a stool.
The implement being used is a metal mug tied to the end of a leather belt. (Why not just use the belt?)
In the second event, which takes place after 12 months, the young soldier keeps his trousers on, but has to kneel on the legs of the upturned stool, and has a roll of fabric stuffed in his mouth to stifle his cries. In the event, this latter is to no avail: after the third stroke (which lands on the back of his thighs rather than on his posterior), he jumps up and squeals with pain.
These are light-hearted events, with everybody laughing. As we can see in the previous clip, the "punishments" are likely to be more painful than this when a TV camera crew is not present.
HERE IS THE CLIP:
Clip 3 of 3 (40 secs):
This is a paddling, not a belting. It takes place in a dormitory and seems a bit less jocular; indeed, the scene is described as a "punishment", so perhaps it is not an initiation ceremony like the others. The boy being dealt with bends over a bed and receives one swat. The film is jerky.
HERE IS THE CLIP: